DF11 MEGAPACK
I am proud to bring you DF11 Facepacks and their fantastic Football Manager Graphics. DF11 Facepacks can be found on his Facebook page but also now we are pleased they are here and offering you Megapacks, Facepacks and much more this is a fantastic opportunity. If you like to make your Football Manager look as realistic as possible, look no further. DF11 Facepacks graphics are all available now on FM Central's website so you need to look no further. Containing stand alone face packs and Megapacks containing over 80,000 faces!
DF11 is a Facepack with a unique style. The Megapack includes almost 80,000 portrait images for players, staff, chairmen and referees. The DF11 graphics team is working constantly on missing faces and renewing the outdated faces by releasing monthly update packs since 2010.
The DF11 faces are 260 x 310 pixels in size, which is quite a bit larger than default FM 2016 size, which are 180 x 180 pixels. If you use a regular skin then the images will be resized to the standard dimensions in game.
– OVERVIEW LEAGUES –
Faces available to cover 78 leagues in Football Manager when using the DF11 Megapack + Updates!
Argentina – Primera Division / Australia – A League / Austria – Bundesliga, Erste Liga / Belarus – Premjer Liga, 1e Liga / Belgium – Jupiler Pro, Proximus League / Bosnia – Premjer / Brasil – Serie A, B, C /Chile – Premier Division / China – Superleague / Colombia – Serie A / Croatia – 1.HNL / Czech Republic – Grambinus Liga / Denmark – Superligaen, Nordicbet Ligaen / England – Premier League, Championship, League One, League Two, Conference / Finland – Veikkausliga / France – Ligue 1, Ligue 2, Championnat National, CFA / Germany – 1.Bundesliga, 2.Bundesliga, 3.Liga / Greece – Superleague / Hungary – NBI / Iceland – Urvalsdeild / India – Superleague / Indonesia – Superleague / Ireland – Airtrycity League / Israel – Ligat Winner, Ligat Leumit / Italy – Serie A, Serie B, Serie C / Malaysia – Superleague / Mexico – Liga MX, Ascenso MX / Netherlands – Eredivisie, Jupiler League, Topklasse / Norway – Tippeligaen, Oddsen Ligaen, OBOS Ligaen / Poland – Ekstraklasa / Portugal – Primeira Division, Segunda Liga / Romania – Liga 1, Liga 2 / Russia – Premjer Liga / Scotland – Premier League, Championship / Serbia – Super Liga / Slovakia – Fortuna Liga / Slovenia – 1.SNL / South Africa – Premier League / South Korea – K League, K Challenge / Spain – La Liga, Segunda Division / Sweden – Allsvenskan, Superettan / Switzerland – Superleague / Turkey – Superleague, First League / USA – MLS, NASL / Ukrain – Premjer Liga / Uruguay – Primeira Division / Wales – Premier League .
These leagues include quite a lot faces, but do not match DF11's minimum standard of 80% at the moment.
EASY MEGAPACK WALKTHROUGH MANUAL
This manual includes all the available options to download our Megapack in several ways.
1.Download the megapack below
2. Download the updates
3. Follow below instructions
---
DF11 Base Skin FM18
The FM2018 default skins modified with the basic DF11 items to display the DF11 faces in the best way in FM2018!
Base skins
– Default
– Light
– Light Transparent
– Dark
– Dark Transparent
Features & Credits
+ DF11 panels (Pikawa)
+ DF11 default faces
+ Instant result button (wannachupbrew)
+ Compatible with all 'zoom' levels
+ Compatible with background packs
Credits
– Pikawa
– Wannachupbrew
– michaeltmurray
– necjeff
How to install DF11 Default skin on FM18
1. Download the .rar file from the link. (DF11 Default FM2018)
2. Unrar (with 'Winrar') to the following location:
documents\Sports Interactive\Football Manager 2018\skins
3. Start FM18. Open 'Preferences – Interface':
Switch 'OFF' ->> "Use skin cache to decrease page loading times"
Switch 'ON' ->> "Reload skin when confirming changes in Preferences"
4. Confirm – Have fun!
---
Instructions
Download the Megapack/Updates and use a tool such as 7-zip,orWinRar

for Windows or for

MacOSX

to extract its contents.

Move the extracted folder "DF11 Megapack" to:

Documents\Sports Interactive\Football Manager 2017\graphics

Create the folder "graphics" if it doesn't exist.
Open Football Manager 2017 and go to Preferences > Interface.
Click the "Clear Cache" button.
Enable "Reload skin when confirming changes in Preferences".
Click the "Reload Skin" button.
There should be a box that pops up saying 'loading image data for the new skin'.
Once this is done your graphics should be working within the game.
---
DF11 Update packs:
Refresh your DF11 Megapack in monthly order with all available update packs.
Your DF11 Megapack will never expire as long as you update it every month!
– BREAKING – NEW DF11 DEFAULT FACES 2018 –
This works only in FM2018.
Several roles in FM2018 will have their own DF11 default face.
You can choose different DF11 default faces to show up for:
– Missing player
– Missing manager
– Missing staff
– Missing referee (and other persons)
Several different faces are already included in this first version.
Easy instructions are included to the download.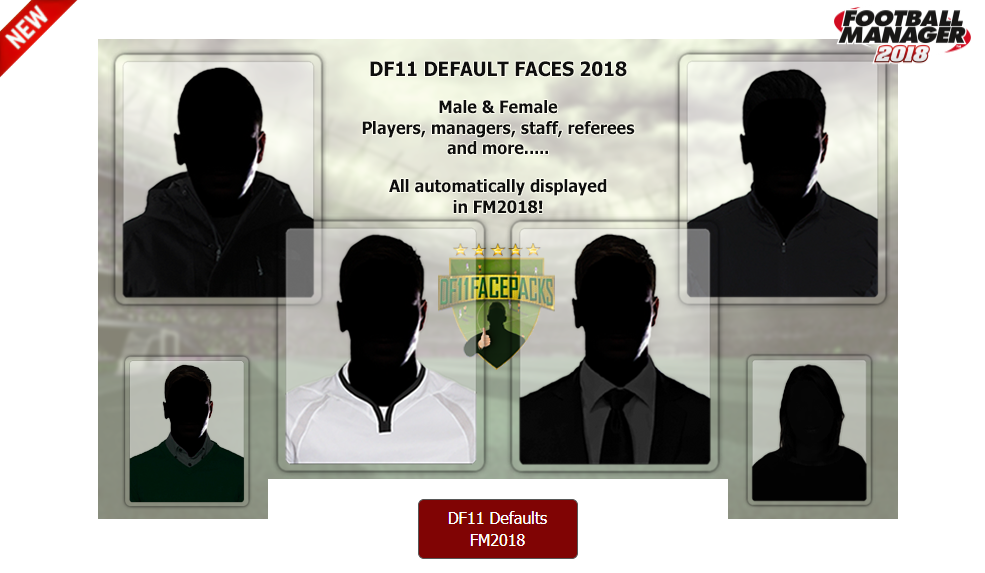 ---
DF11 help guide/manual:
---
A massive credit to DF11 Facepacks for allowing us to use their graphics and share them with you, we hope you enjoy their graphics especially their Skins and Megapacks. If you have any questions or queries please write in the comments below and also DF11 Facepacks can be contacted on their facebook link which is in the opening paragraph.